New Releases
Indianapolis thriller author, Stacey Carroll is the author of several adult fiction books in the suspense, romance, erotica and thriller categories. If you are looking for no-holds-barred fiction that doesn't fade to black during intense scenes, you've found the right author. her books can be found on Amazon, Barnes and Noble, Kobo and Itunes.
AVIA I - Thunderstorms & .45s

Publication Date: March 19, 2018
Where to Buy: Amazon, Barnes and Noble
​Genre: Thriller - Crime

Avia might be able to con a rich woman out of 50 million dollars before her vacation to Hawaii, but she's going to need some help to do it. She has to call in people she terms her "cousins," and she has to deal with the fact that she is still an alcoholic and heroin addict. With the help of Benton, can Avia actually pull off this heist and get out of town before it is too late? Thriller author Stacey Carroll shows you a woman with everything and nothing to lose in Avia I Thunderstorms and 45s.

Read Sample Chapters

​

Amazon

Kindle: $4.99

Amazon

Paperback: $10.99Barnes and Noble: 10.99
avia ii - bullets & betrayal

Publication Date: May 1, 2018
Where to Buy: Amazon, Barnes and Noble
Genre: Thriller - Crime

Greg Locke is the detective who thinks he can put away both Avia and Benton in the next book in the series Avia II Bullets and Betrayal. These two are very close to going to jail or going on vacation to Hawaii when their heist goes bad. They are stuck in a life of crime, and they cannot seem to get out. Thriller author Stacey Carroll tugs you through all the twists and turns of these two and their lives while showing you that crime can pay in the worst ways.

​

Read Sample Chapters

Publication Date:

May 10, 2018

Where to Buy

: Amazon

Genre:

Thriller - Crime

Avia Memories A Short Story Collection is the perfect way for you to learn more about how Avia, Benton, and Detective Locke all come together in this series. These three stories are set during both Avia I and II, and they let you in on the details that you might have hoped you would see in the books. The table of contents is below, and it is enough to make you want to read it all right now.

1. Detained - A memory from AVIA I Thunderstorms and 45s

2. Shotgun Father - A Memory from AVIA II Bullets and Betrayal

3. Dodge in the Dark - Based on Chapter 3 of AVIA II

4. AVIA III - Cons and Cops - First Chapter Preview

​

Amazon Kindle: $1.99Amazon PaperBack: $4.99
the BLOODDOLL factory

Publication Date: September 14, 2018
Where to Buy: Amazon
​Genre: Paranormal Erotica Thriller

​After being unemployed for a year, William finally receives a call to come into Elite Surrogates and Adoption (ESA) for an interview. The sterile white interior does nothing for his confidence as he's led to Sadie Jone's (HR manager's) office where she proceeds to question him about his job experience and reproductive knowledge.

It all goes well until William realizes that he's going to have to "perform" for the job. Fifty dollars an hour would help him catch up on his mortgage and get his wife to stop nagging him about the bills, but using his own semen to propagate the reproductive cycle is more than a little weird.

​

Read Sample Chapters
Other sexy books you may enjoy
Powered by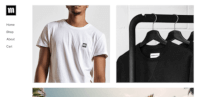 Create your own unique website with customizable templates.