Thunderstorms and .45s - 2018 Avia Version
SKU:
After gunning down a police officer in front of the Sarasota police station, drug-addled, drug-running pilot Avia flees to Michigan where con artist Benton Docks and hitman Brian are scamming a rich socialite out of her money. Hoping to relax and integrate herself into the scam, she's thrown into another disaster when one of her cohorts shoots the woman for threatening to expose them.

Powered by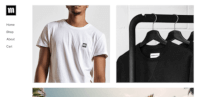 Create your own unique website with customizable templates.