When you think about purchasing a new book to read, you may wonder: What's in it for you? What are you going to get out of this book? The first thing you'll get is to keep more of your hard-earned money. The average e-book retails for between $6.13 and 11.99, and you will find some books priced much closer to $20. By contrast, the ebook price for Thunderstorms & .45s is $4.99, a $1.14 to $7 savings. The average print book price is closer to $17. By contrast, you can receive a print copy of Thunderstorms &. 45s for $8.99 + shipping. That's a $10 savings over other similarly priced books. Of course, if you have Amazon Prime, your shipping is free, and you'll receive your new thriller book in two days.


​1. You Can Take It Anywhere

You can take your new copy of Thunderstorms & .45s anywhere, especially if you purchase it as a Kindle version.

Amazon's Kindle

is available for iOS, Android, Mac and Windows PCs. This means that once it is on your phone, you will have Thunderstorms & .45s available to read whenever you have a free moment.

If you purchase the print version, you can still take it with you anywhere. The soft-cover design ensures they you can fit it into your backpack, median to large purse and in your carry-on bag. With the print version, you won't have to worry about glare or eye strain from blue light or computer vision syndrome. You'll also get that authentic reading experience by turning the pages and feeling the paper between your fingers.

​2. You Can Relax and Get Lost

Unlike other books in the thriller/crime/heist category, you can relax with Avia and Benton. The scenes won't raise your blood pressure or give you an anxiety attack. There is no gruesome or explicit violence or gore, and no one gets tortured, which means you won't have to worry about an upset stomach. The world is also in-tact and just fine. No computer, accident, alien or horrific viral vent has cause the destruction of mankind or the fall of the world. Instead, Avia and Benton are just trying to earn a few million the old-fashioned way – by stealing it from someone else.


​3. The Print Version Is Ad and Commercial-Free

In today's society we are bombarded with marketing from the time we get up to the time we go to bed. It's everywhere. It's on our computers. It's on our tablets. It's on our phones, and it's on every billboard around town. The print version of T

hunderstorms & .45s

– Avia Version is ad and commercial free. All you have to do is turn the pages. The story will keep flowing as long as you keep reading.

Why are you buying Thunderstorms & .45s? Tell us in the comments.
Powered by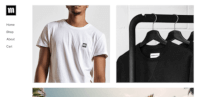 Create your own unique website with customizable templates.